XLN Audio ADpak: Modern Jazz - Brushes
Expansion Pack for Addictive Drums 2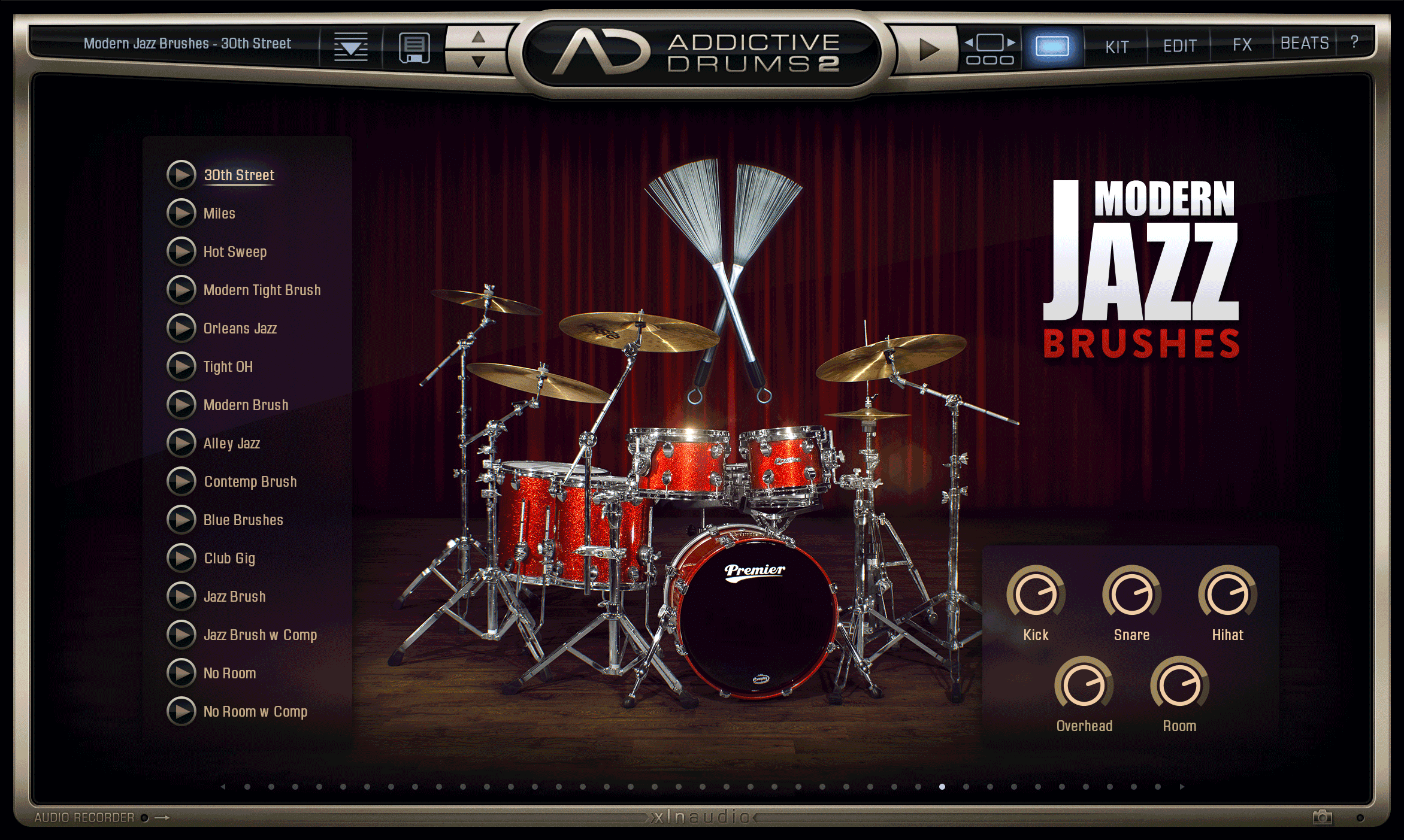 ---
Classy Drums for Modern Jazz
Premier kit (played with brushes)
Realistic brushing with RealSweep
Production-ready presets
Few things are more alluring and seductive than the sound of drums played with brushes. If your music needs brushed drums, you need this kit.
With brushes, it's all about the nuances and accents. XLN's RealSweep system lets you make realistic sweeps complete with accent strokes and lifelike stops resulting in the most irresistible grooves! Production-ready presets give you instant access to great sounds.
The Modern Jazz Brushes ADpak features a beautiful Premier Gen-X drum set and a mint condition Ludwig Acrolite snare drum famous for its rich sound and tone. The drums are played with brushes and have been tuned up slightly for a Modern Jazz sound. With a setup of some of the finest cymbals from Meinl, Paiste and Sabian this kit has everything you need to produce outstanding jazz tracks.

Our RealSweep system allows you to make accents in the sweeps without interrupting the sweep motion. You can also stop the sweep at any time for pauses. This gives you extremely realistic brush performances for an irresistible groove! If you need some inspiration, our Jazz Brushes Grooves MIDIpak features excellent performances by professional drummers and makes great use of RealSweep!
---
System Requirements
Requires an existing license for Addictive Drums 2 (sold separately).
MacOS 10.10 Yosemite and above
Windows 7 and above (64-bit only)