MeldaProduction MSoundFactoryLE
Modular Virtual Instrument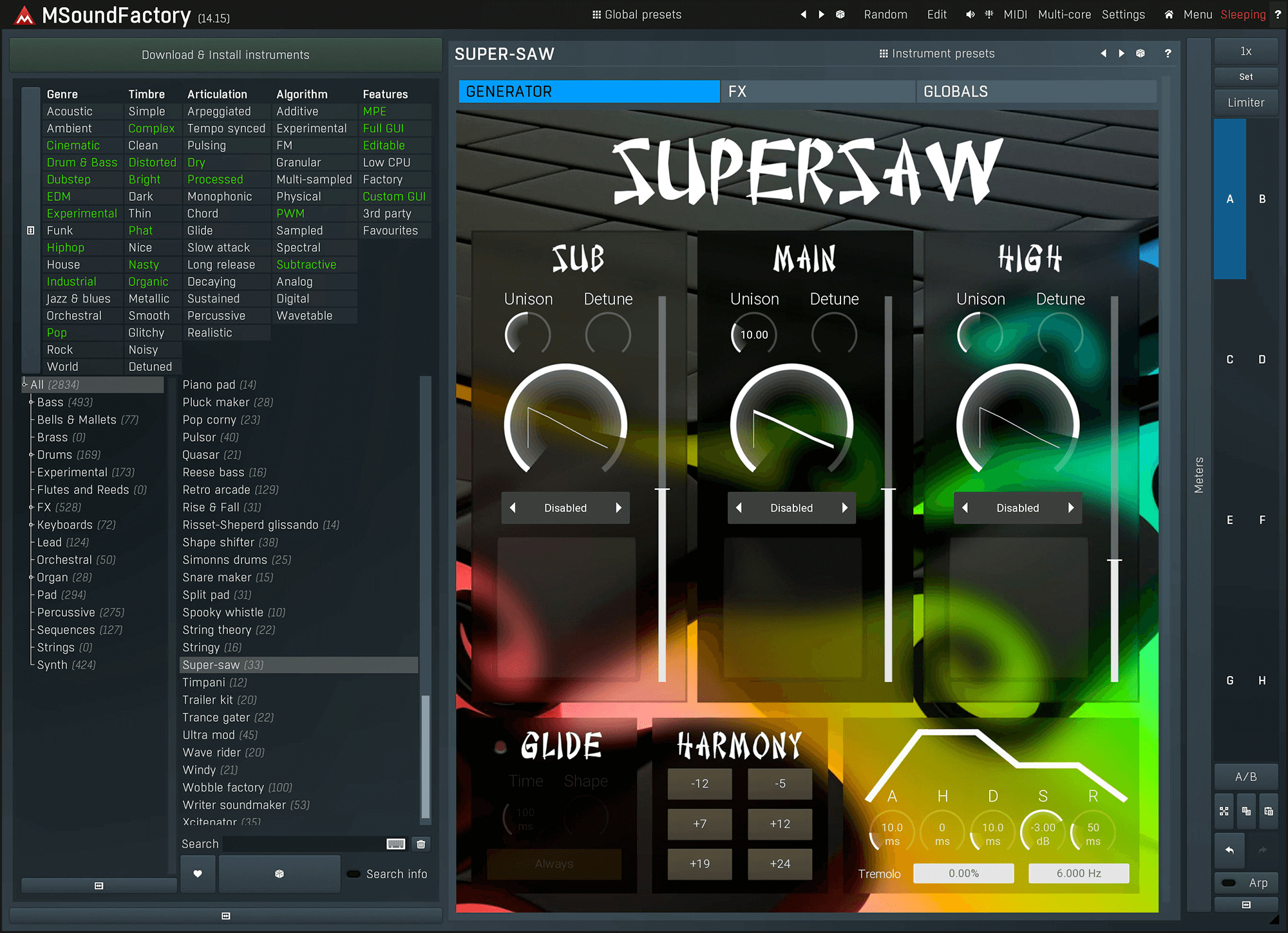 MSoundFactoryLE provides all the sounds MSoundFactory comes with, but without access to the edit screen.
---
Powerful Instruments
MSoundFactory provides hundreds of predefined sounds available via global presets, just as any other instrument. The true marvel however is the categorized system of instruments. An instrument is not just a sound, potentially with a few macro controls. It is an entire "instrument", with lots of settings and its own presets.
---
Free-For-Life Updates Including New Instruments
As a Melda customer you already know that you get all future versions for free, right? But you also get future instruments for free! We are just not going to try to sell you more stuff all the time like everyone else. MSoundFactory is a platform that gets you a free flow of new sounds.
There may be some commercial instruments in the future, but most of the stuff will be available for you at no additional cost. You can expect electronic synthesized stuff as well as various sampled instruments.
---
Features
The most advanced user interface on the market - stylable, resizable, GPU accelerated
Unique visualization engine with classic meters and time graphs
Modulators
Adjustable oscillator shape technology
Multiparameters
Smart randomization
Automatic gain compensation (AGC)
Sinc interpolation
Adjustable up-sampling 1x-16x
Safety limiter
Synchronization to host tempo
MIDI controllers with MIDI learn
64-bit processing and an unlimited sampling rate
Extremely fast, optimized for newest AVX2 and AVX512 capable processors
Global preset management and online preset exchange
Compare multiple settings
Supports VST, VST3, AU and AAX interfaces on Windows & Mac, both 32-bit and 64-bit
No dongle nor internet access is required for activation
Free-for-life updates
---
System Requirements
Mac OS X (10.9 and newer, 64-bit only)
Windows Vista / 7 / 8 / 10 (32-bit or 64-bit)
VST / VST3 / AAX / AU compatible host
Intel/AMD processor with SSE2 support
---
System Requirements
MacOS 10.14 Mojave and above
Windows 8 and above (32 and 64-bit)
Intel, AMD, or Apple Silicon CPU
Plugin Formats
AAX Native, AU, VST2, VST3
---
User Manual