HOFA CD Burn DDP Master App
Mastering, DDP Creation & CD Burning Software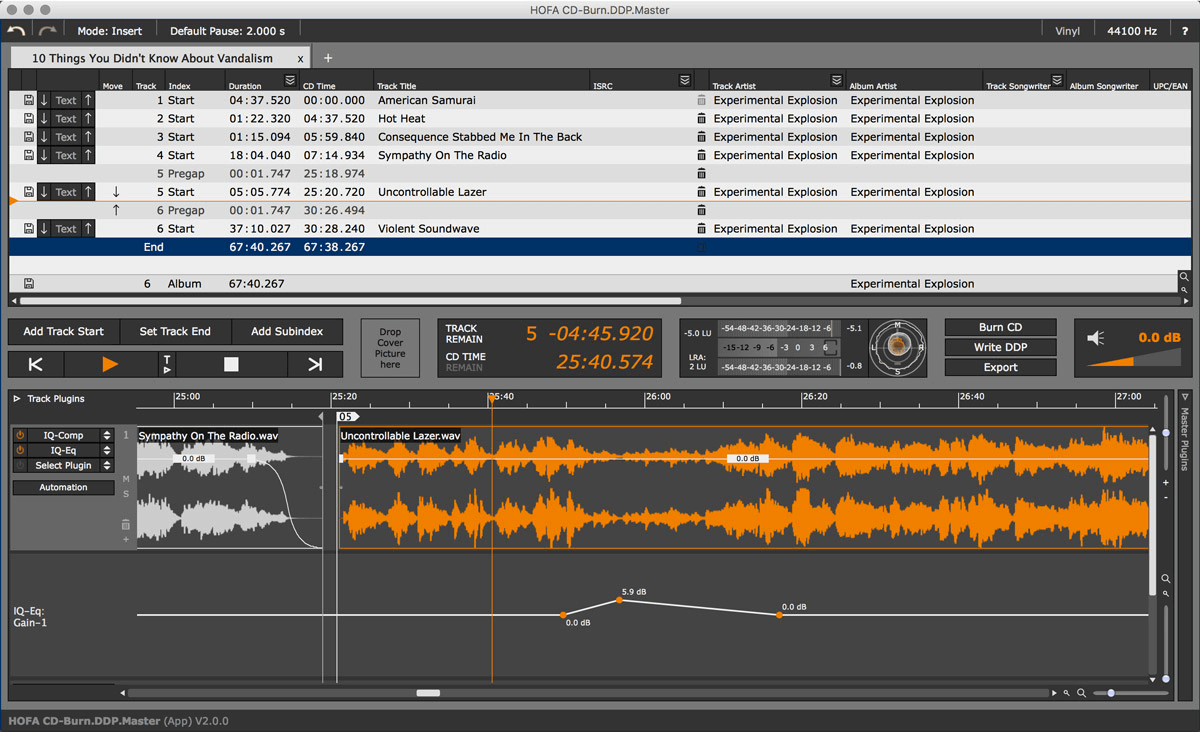 ---
The All-in-one App for (Pre-)Mastering!
Easy mastering for CD, DDP, vinyl, and online distribution in one project
Create Red Book audio CDs and DDP images
All HOFA plugins can be used in CD-Burn.DDP.Master (App) for free
---
(Pre-)Mastering Made Easy
HOFA CD-Burn.DDP.Master (App) is the ultimate tool for all mastering and pre-mastering tasks.

Import your audio files to edit them, set fade-ins and fade-outs, and apply crossfades. Use the included HOFA plugins for high-quality audio processing (not available in the LE version). Use the Tag Editor to add track titles, artist, and album information. Professional ISRC and EAN codes are supported.
Once you're happy with your processing, you can export your project in various formats. Burn a CD, export a DDP image, export for vinyl, export WAV, AIFF, MP3, and much more.
Editing
Cut and trim your audio clips as you need.

Fades
There are 6 different fade curves for perfect fade-ins and fade-outs.

Crossfades
Simply move one clip on top of another to create a crossfade. All 6 fade curves can also be used for crossfades!
---
HOFA Plugins Included
All HOFA plugins (total value over €1190!) can be used in the HOFA CD-Burn.DDP.Master (App) at no additional cost. You can process the sound of your master directly in the app. All plugin parameters can be automated.
---
Burn CDs
The CD is still an important medium for music releases. With CD-Burn.DDP.Master you can create and burn Red Book compatible CDs and add additional information like CD-Text, ISRC and EAN codes to the CD.
---
Create DDPs
A DDP image is a perfect copy of a CD with audio tracks, pauses, CD-Text, etc. A checksum ensures the exact data transfer. Most CDs these days are sent to the pressing plant as a DDP image. Using CD-Burn.DDP.Master you can create a DDP image with one mouse click that meets all professional standards!
---
Vinyl
Vinyl records are back in fashion! CD-Burn.DDP.Master makes it extremely easy to prepare your music for vinyl distribution. Special markers define which tracks go on which side of the record. The predefined maximum length of the vinyl record is checked automatically.
---
Online Distribution
Online distribution via iTunes, Spotify, Amazon, etc. is becoming increasingly important. You can export high-resolution audio files (WAV, AIFF, MP3 etc.) with meta data and even prepare an itmsp-package for iTunes directly from CD-Burn.DDP.Master!
---
Multi-CD Projects
Whether you're working on a live recording, audiobook, or other long projects: a single CD is often not enough. With CD markers you can manage any number of CDs in one project and burn them as a batch process or export them as DDP images.
Multi-Session CDs
Beside the audio tracks, the multi-session feature allows you to store data on a CD that can be read by a computer. This way you can add pictures, videos, lyrics etc. to your CD.
---
CD Import
With the new CD import feature you can easily convert an audio CD into a DDP image and edit it in CD-Burn.DDP.Master. Track markers, CD-Text, and all other metadata are also transferred (as long as the CD drive supports this.)
---
Import Wave File Markers
If the imported wave files contain markers, CD-Burn.DDP.Master automatically creates corresponding track masters.
---
Connect to DDP Player Maker
The connection to HOFA DDP Player Maker lets you create DDP players in record time, so your clients can check the DDP.
---
System Requirements
MacOS 10.8 - 10.15
Window 7 and above