Diginoiz Hattricks
Trap Hi-hat Virtual Instrument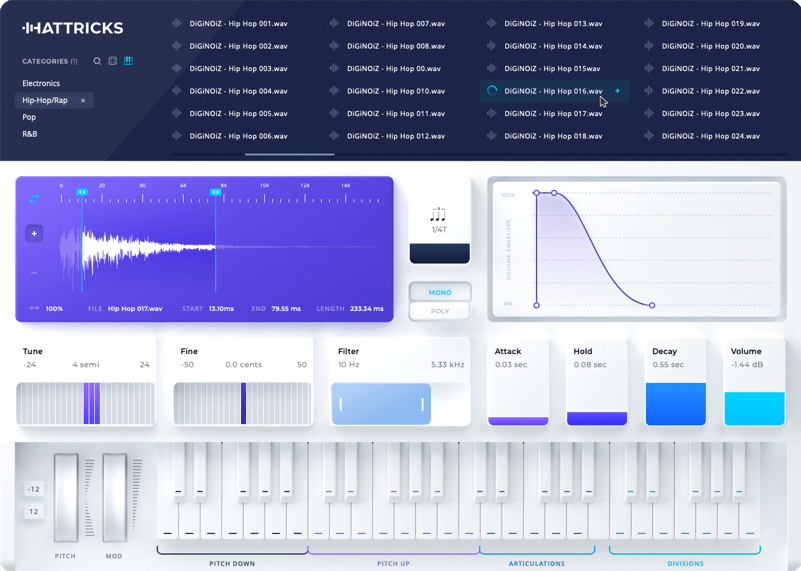 ---
Hattricks is a virtual instrument for trap hi-hat creation that makes the process smooth, easy, and efficient. In technical terms, it is a sampler and a sequencer with rhythm divisions assigned to keys. In practice, you just press a key and it plays a pre-programmed looped rhythm division. For example, you press D3 and it plays 1/4 notes, E3 plays 1/8 notes, and so on up to those 1/128 rolls that are on the brink of one's perception. Of course, it has triplets too!
Hattricks lets you record otherwise unplayable hi-hat parts in real-time, or if you'd rather program them, getting a groove will only require a few clicks. Imagine how much of your time and creative energy it will save you!
---
If you decide that you want to change the sound after laying down the part you can choose a sample from Hattricks' huge library, or drag a favorite sample of your own. If then you feel the need to refine it, you can change its length, retune it, filter it, and adjust its attack, decay, and release times.
---
---
Retuning
No trap hi-hat instrument would be complete if it couldn't let you retune selected parts of your sequence and let you make those characteristic tuned rolls. With Hattricks, you can do it in two ways: by using a pitch wheel, or if you want some precise tuning, by using a keyboard. The keys from C1 upwards retune the sound's pitch upwards in half steps when pressed, and consequently, the keys from C1 downwards retune the sound's pitch down in half steps.
---
Not Just for Hi-Hats
But what if you loaded a snare sample into Hattricks? Then you can create trap snare drum rolls, or  stylish EDM drum risers.
The Articulations section includes pre-programmed drum rudiments such as flam, drag, ruff, buzz, and roll, with two speeds and allowing for nice and quick drum fill creation.
And what if you loaded a tonal sample into Hattricks? Then you can create trap melodies. First, make a rhythm sequence and then can play with the notes' pitch.
And what if you load a kick sample into Hattricks? You now have a pattern generator for metal bass drum passages.
Hattricks can be used for any genre you want, including Trap, RNB, Pop, EDM, and even Heavy Metal, if that's what you fancy!
---
Sound Library
With the Hattricks you will receive a huge library of 853 hi-hat samples and 45 bonus drum samples which overall gives you almost 900 top-quality sounds ready to use and create!
---
Formats
Hattricks is available in the two most popular plug-in formats: VST3 and AU, so you will be able to use it in DAWs that support these formats (Cubase, Logic, FL Studio, Ableton Live, Studio One, GarageBand, and others). VST2 format is not available.
---
System Requirements
Windows 7 64-bit or higher
MacOS 10.12 Sierra - 10.15 Catalina
64-bit CPU with SSE3 support
8GB RAM or more
10GB free space on the system drive
Sounds are loaded into RAM, you will need about 200MB of free RAM during work