BBE Sound Sonic Sweet V4
4 Exciter & Subharmonic Plugins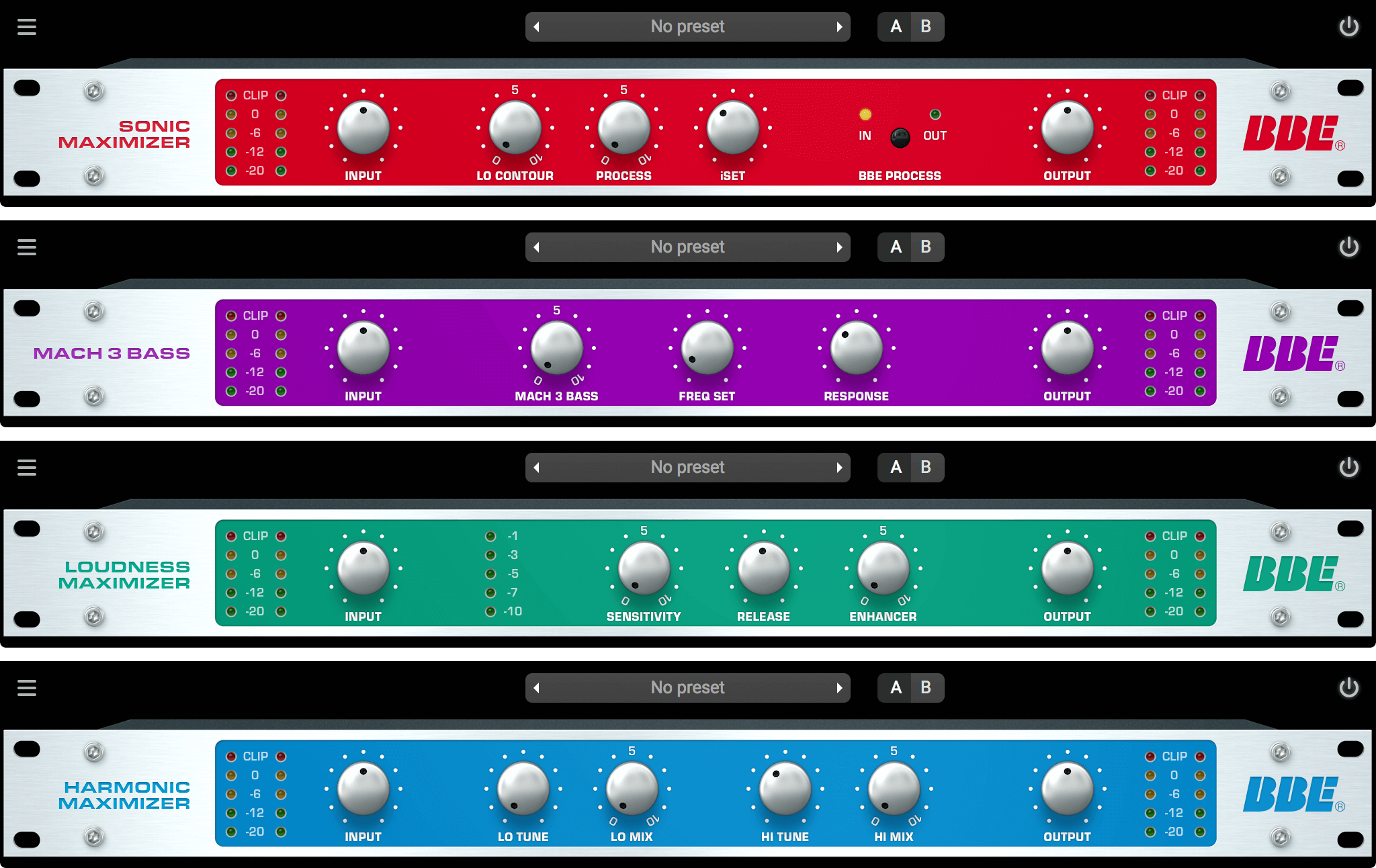 4 Plugins featuring the BBE Sound Legendary Tone
It has been built from the ground up within a new framework that brings the classic sound of BBE Sound into the future.
When the pros talk about their "must-have" equalizer, Neve usually is the first brand mentioned. Ask about their choice of a compressor and it might just be an Urei 1176.
When it is an enhancer/maximizer subject, "BBE Sound" is usually the answer.
Throughout the world, there's barely a studio, sound engineer, or record producer that doesn't own at least ONE version of BBE's enhancer/maximizer tools.
BBE Sound products have been used on countless productions to give them more sparkle in the high end and a richer fatter sound in the low end without being "muddy".
BBE products have been copied over and over again but people stick to the BBE Sound trademark because they are quite simply the best sound tools in their category.
The BBE Sonic Sweet v4 plug-ins give you exactly the same brightness, clarity, and fullness as the hardware modules with the added bonus of being fully automatable.
The "Sonic Sweet" bundle consists of four amazing plug-ins that bring the legendary BBE Sound into your productions:
---
Sonic Maximizer
Sonic Maximizer is the best way to get that professional sound and extra sparkle that is so difficult to capture.
Identical to the physical unit in terms of utility features and processing, BBE's advanced sonic processing technology and proprietary algorithms have allowed the creation of an outstanding and well-received plug-in, used by all in the industry.
---
Harmonic Maximizer
Harmonic Maximizer increases presence and clarity, restores natural brightness, and adds deeper and extended low frequencies.
Used in the studio on individual tracks or an entire mix, or live to enhance the sound of a P.A. system for example.
---
Loudness Maximizer
Loudness Maximizer is a mixing and mastering multi-band limiter plug-in.
Its ultimate transparency allows you to dramatically increase the overall level of your mix without audible pumping effects.
Using simple controls, turning the Sensitivity up will increase the level of your overall mix without clipping.
---
Mach 3 Bass
As a new addition to the Sonic Sweet lineup, Mach 3 Bass will take your low end to new sonic depths.
Insert this plug-in on any type of bass instrument or signal where you need a big boost on the low end.
Mach 3 Bass allows you to easily dial in the frequency you want to accentuate and "bump the bass".
---
System Requirements
MacOS 10.9 Mavericks and above
Windows 7 and above (64-bit only)
Intel, AMD, or Apple Silicon CPU
2GB RAM or more
1024x768px screen resolution or higher
Plugin Formats
AAX Native, AU, VST2, and VST3
---
User Manual
Mac Trial
Windows Trial