Le Sound Reshape
Sound Design Virtual Instrument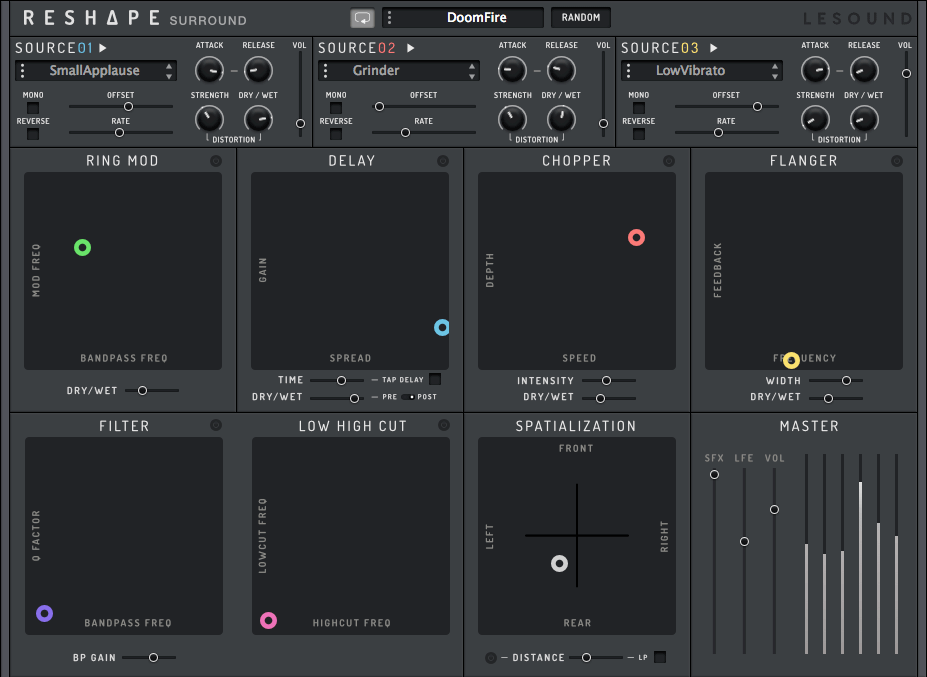 ---
Cinematic whoosh effects, futuristic vehicle sounds, and more.
Reshape is a touch-to-play sound design tool based on exploring gesture usage to give new expression means to sound creators. By using gestures with a mouse or multi-touch interface (Reshape Touch on iOS/Android), sound designers will be able to create and shape sounds in real-time, just like the way a musician plays an instrument with expressiveness.
---
Create and Shape Sounds in Real-Time
Reshape is composed of two parts: Source panels and Effect panels. There are three layers (01-03) of Samplers, which allows superposition of up to 3 sounds before the effect process. Reshape multi-effects include ring modulation, delay, chopper, flanger, filters, and spatialization. By means of mouse click with PC or finger touch on iPad/Tablet in the X-Y panel, it triggers the samplers playback with effects.
---
Take Full Advantage of Multi-Touch
Reshape Touch is the companion remote control app for Reshape. Designed to take full advantage of multi-touch on your iPad or Android Tablet, it provides simultaneous manipulation of real-time parameters to create versatile audio effects.
---
---
System Requirements
MacOS 10.7 and above
Windows 7 and above
iLok account and iLok 2/3 USB Key
iLok machine ID and iLok Cloud are NOT supported
Plugin Formats
Mac: AAX Native, AU, VST2, VST3 (all 64-bit only)
Windows: AAX Native, VST2, VST3 (all 64-bit only)
AAX version is compatible with Pro Tools 11 and above
User Manual