Chocolate Audio Celestial Celesta
Celesta Virtual Instrument for Kontakt Full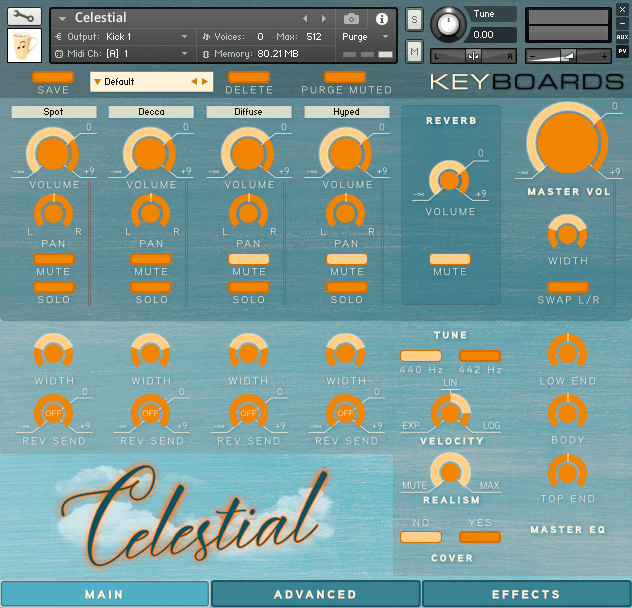 ---
This celesta is a very old Mustel made in Paris and properly maintained and restored by skilled technicians in Milano.
We carefully made sure the tuning was the best possible and spent quite a bit of time experimenting with mic choice and positioning.
We ended up using a pair of AKG C414EB from the 70s for their silky and smooth sound as Spot mics and another trio of AKG 451E with CK22 omni capsules for the Decca perspective.
Then, we chose to record the Celesta with its cover removed in order to obtain a less boxy sound, something that is very often done when recording such instruments.
Nonetheless, we emulate the effect of the cover inside our User Interface in case you're looking for that boxier sound.
---
Heavenly Sounds
The recording techniques we chose allowed us for a very close and up-front sound as a Spot sound. Plenty of low end in the attack is available due to proximity effect in our mic placement.
The orchestral placement is easily achieved (in most presets) by cutting some low end with the onboard EQ and adding the Decca channel.
---
Extra Choices
Later on, in post-production, we decided to add two more options, sound-wise.
A diffused reverb kind of effect on one channel and a hyped and shimmery halo on the other channel.
These are sounds good for specific usage scenarios in cinematic composing and while orchestrating.
These four channels, by themselves or combined, give you a very wide palette of sounds from a single Celesta sample set.
---
Mixing A-La-Carte
One might think that having four different choices and combinations of source channels plus the reverb would make finding the perfect balance impossible. It is not.
This Instrument, we believe, easily opens up many different sonic worlds by using its onboard mixer. This tool is focused on easy-to-get results with a few tailored controls:
Volume
Pan
Mute and Solo
Width
Reverb Send, amount of signal for each microphone that gets processed by the on-board IR Reverb
Master effects are a 3-band EQ with cherry-picked frequency centers, a Preset Compressor & Tape Emulation, and the IR Reverb
On each single channel you might use a simple but very effective 3-band EQ
---
Optimal Resources Management
Dealing with an Instrument featuring four sources layered at the same time can bring a heavier than usual load on system resources. The amount of playback voices for the CPU and Disk Streaming, preload in RAM, and load times could suffer.
A click on Purge Muted simply removes from memory all muted channels, not anymore weighing on RAM, CPU, and streaming resources.
---
Simplicity, with Depth
Our approach to sampled Instruments is to let the musician in you fly free of any technical burden. Fast, full satisfaction is guaranteed: you just need to play, the fastest possible learning curve is always kept as a reference when designing our Instruments. At the same time, when there's that techie-need to tweak and fine-tune, our multi-layer user interfaces allow for it, giving you the best of both worlds.
---
Advanced Sampling and Scripting
We believe the real breakthrough in these ages is creating advanced, high-quality Instruments which don't require you to earn a masters in computer programming before you start making music with them. Making matters easy for the musician always means introducing more and more layers of complication for us developers. First of all, we are musicians, and we don't want you to end up putting our products on a virtual shelf and forget about them because they are too hard to learn and use.
---
Preset-Galore
Our effects section doesn't require a degree in audio engineering to make the best out of it. Just select one of the 17 main Presets and fine-tune it using a few carefully selected parameters.
The Compressor & Tape Emulation section, while rarely used on such an instrument, can bring the Celesta sound into hell-bent territories. No less than 22 + 22 (for when using a single Mic only, marked with a + sign) presets with a simple Amount knob to rule it to your taste.
The Reverb section, again, not so needed based on the sample content, it's a very nice addition and features an in-house developed collection of 101 carefully selected high-quality Impulse Responses coming from both real spaces and revered vintage and contemporary studio hardware.
---
Key Level Trimming
Celesta is a tough instrument to tame in a mix, also because it's not easy to find one in very good shape and it's not even so easy to record one. We made our best efforts in balancing the sound "straight out of the box", but in case you want or need to change the volume of each single key, you can do so from the specific MIDI key-based level trimming.
---
Features
0.5 GB (lossless compressed) library size, 449 samples
4 layered channels: Spot mics with AKG C414EB, Decca mics with AKG C451E-CK22 and 2 additional sound-designed options, Hyped and Diffuse
Sustaining sounds, chromatically sampled
Release trails, chromatically sampled
Independently controllable sustain-pedal noise
Sampled with Millennia preamps fed direct into Apogee converters
All of the details of the celesta recreated through the use of our custom advanced scripting
Recorded at 24 bit / 96 KHz, released at 24 bit / 44.1 kHz
Easy-to-use mixer for extreme sound-mangling
---
System Requirements
Native Instruments Kontakt Full 5.5.2 and above
MacOS 10.9 Mavericks and above
Windows 7 and above
Intel Core 2 Duo CPU or better
4GB RAM or more