Audio Ease Altiverb 7 Regular
Convolution Reverb Plugin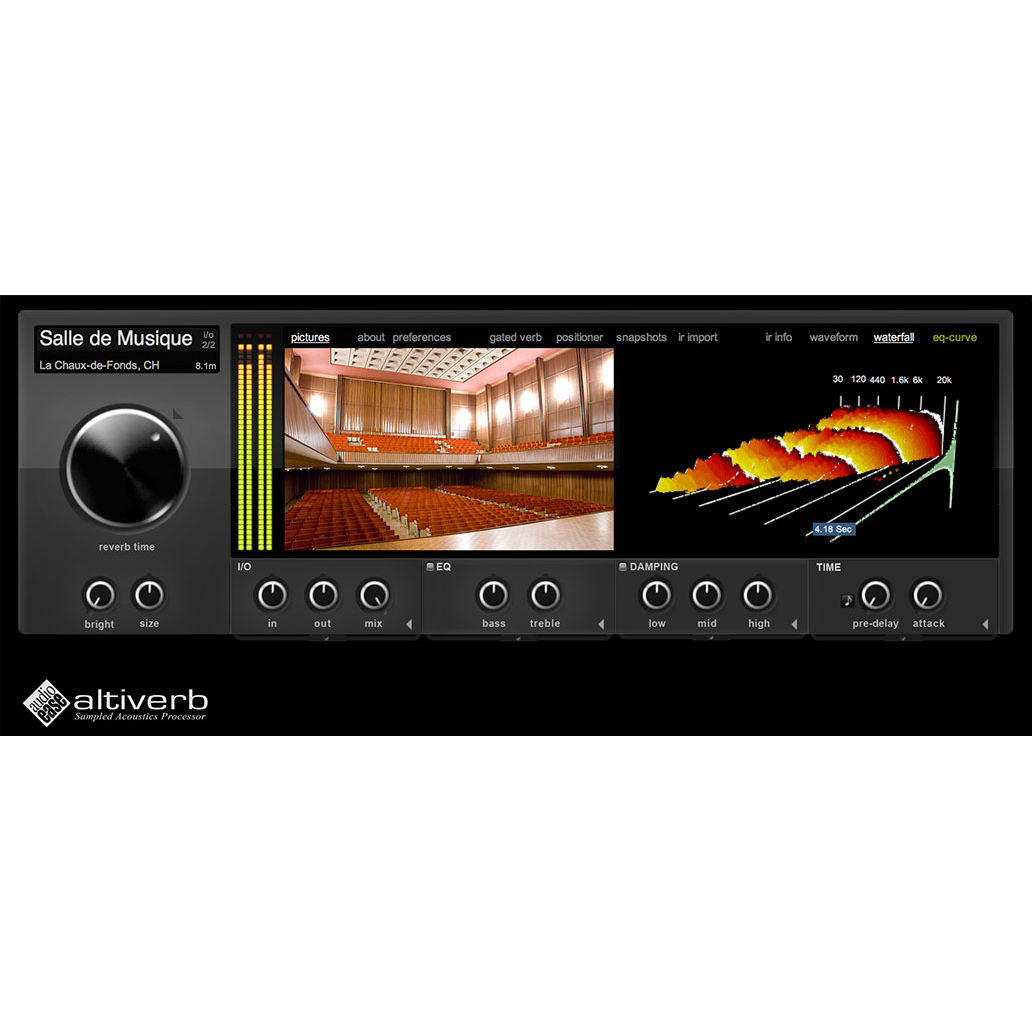 Altiverb 7 is the industry standard convolution reverb plug-in for Mac OS X and Windows.
It features top quality samples of real spaces to create reverb, ranging from Sydney Opera House to the cockpit of a Jumbo Jet.
Altiverb 7 is efficient on the CPU, offers many parameters to tweak the reverb, it is total recall automatable, and it has 64-bit support.
Every month Altiverb 7 users receive new impulse responses for free.
---
Regular Version Features:
up to stereo input and output
up to 96 kHz sampling rates
---
From all over the world
Longer than anyone in the industry, and with more ear for detail, Audio Ease has been traveling the world to record the acoustics of the very best sounding spaces.
The results of hundreds of these travels are included with Altiverb 7.
Ranging from London's Wembley stadium to the ancient caves of the island of Malta and the churches, concert halls and rock studios of the cities of Paris, Amsterdam, Berlin, and New York.
---
The IR browser
The Impulse Response library is now more accessible then ever because of Altiverb's new visual browser.
Select impulse responses by clicking photos of rooms. Instant gapless loading, organize-by-size, and single click favorites are just a few of the possibilities.
The Impulse Response Browser contains a keyword search field, single click downloading and installing of new (free) impulse responses.
---
System Requirements
MacOS 10.11 El Capitan and above
Windows 7 and above (64-bit only)
Free iLok account and iLok License Manager
An iLok 2 or 3 USB key is required. iLok Cloud and iLok Machine licensing methods are NOT supported